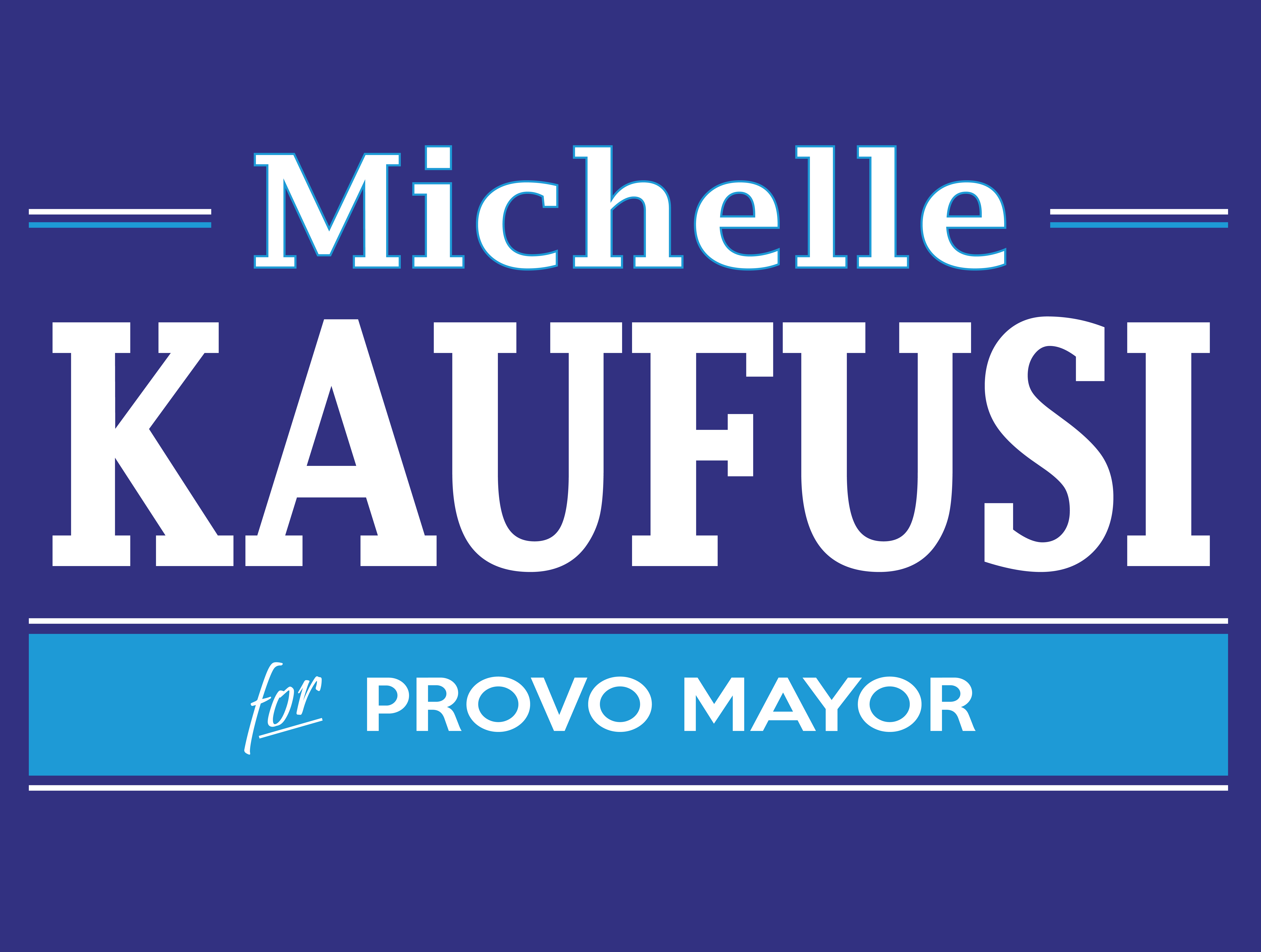 It has been a whirlwind experience since I announced my campaign for Provo mayor. I'm overwhelmed with the calls, emails, and text messages encouraging me to run, and thank you for your generous offers to volunteer with my campaign.
Since announcing I have met with citizens from every neighborhood to learn more about the individual needs in each community. I have met with many business owners to see what they are doing to better our community and what they need from the City to continue to thrive.
I was humbled by the large crowd that showed up to my campaign kickoff at the Provo Rec Center. Thank you for being there! I love this community and all that Provo is. I purposely chose a community gathering place where all would feel welcome to attend.  This race is about our future together.

There's a very real energy in Provo right now. We need a mayor who can keep the momentum and lead us into a bright future. I believe I am the person to do that. I believe my experience has prepared me for it.
Allow me to share just some of that experience.
Serving on the School Board I have been involved in many decisions that impact everyone in our community. As a School Board, we don't just discuss classroom curriculum, we manage about $320 million in assets, and an annual budget of over $120 million. (If you want to see the budget you can click here) Over the last 3 years I have played an integral role in overseeing the construction of 4 new elementary schools and the new Provo High. Our school maintenance problem had been kicked down the road for far too long. It took courage and leadership to get things done.
When it comes to our children and our city's needs, there is nothing more important and I will never back down from a challenge when it comes to them.
Our neighborhoods must be safe places to raise our families. This is one of the primary reasons so many of us choose to live here. For the last 3 years I have served on the Citizens Advisory Board of the Provo Police Department. With my fellow board members, I work with the Police Department to ensure citizen needs are met. We meet monthly with police officers and Mayor Curtis. I am closely watching the new police chief hiring process and look forward to meeting working with our new chief. I am closely watching the new police chief hiring process and look forward to meeting with and working with them.
Working on the Communities that Care Coalition Board has given me experience with groups like the United Way, Utah County Health Department, Provo City and others in raising healthy, successful and considerate youth.

Watch my introductory campaign video here.
You, the citizens of Provo, are the real magic of this place. I'm excited for our future because of people like you. I would be honored if you would give me the chance to lead Provo into an even brighter future.
Follow me on Facebook; Twitter; and Instagram.
I'm proud of the endorsements and support I have. You can visit my website  www.Michelle4Mayor.com and learn more about my campaign.
Michelle
Michelle@Michelle4Mayor.com
(801) 319-4999