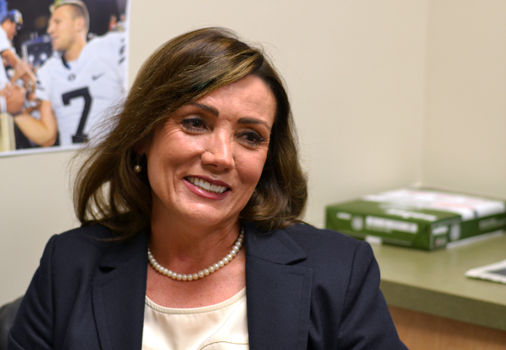 November 3, 2016
School Board Member Michelle Kaufusi Announces Bid for Provo Mayor
Provo—Provo School District board member and former chair Michelle Kaufusi has announced her bid for mayor of Provo.
Her decision came after prodding from others, including prominent civic and business leaders, she says. "I'm thankful to those of you who have encouraged me to do this," says Kaufusi. "I am proud of all the support from friends and neighbors in Provo. We have over $40,000 in pledges and a fantastic volunteer team ready to spread our positive vision for Provo's future. I will visit every precinct in Provo and knock on as many doors as I can."
Kaufusi's announcement comes on the heels of Mayor Curtis's announcement earlier this week that he will not seek another term. His term will expire in January, 2018, with elections for the next Provo mayor to be held in November, 2017.
"I've known and admired Michelle Kaufusi for years" says Gayle Chandler who has known Kaufusi for years and observed her work in the community, including on Provo's school board.. "She is someone who has dedicated herself to improving many areas of our community. Michelle's experience as President of the Provo School Board is one example of her excellent leadership capacity. She is personable, energetic, and caring.  When she recognizes a need, she problem solves for a solution and reaches out to all involved to implement it. Provo would be fortunate to have her as our mayor."
Kaufusi's supporters cite her experience as one of her greatest assets. "Serving is what Michelle does," says Liz Paxman, neighbor and Provo educator. "My husband calls her a 'servant-leader.' She sees a need, figures out what needs to be done, and then does it, no matter the obstacles. And she does it without ruffling feathers. She preserves relationships, even with those who see things differently. That's a rare talent."
Provo superintendent Keith C. Rittell also praises Kaufusi's leadership. "It has been my good fortune to work with Michelle for more than four years. I have known her to be courageous and very dedicated to getting things right. She is willing to listen and provide answers to all people on a wide variety of issues. She maintains civility even in times of disagreement. I have seen her study issues in depth to be prepared to make the very best decisions possible."
Kaufusi's experience includes her role on the Board of Trustees of the Utah High School Athletic Association, as well as committees ranging from the Citizen's Advisory Board for Provo City to the Community Councils for Rock Canyon Elementary and Timpview High School.  Michelle also serves on the steering committee for Utah Valley Regional Medical Center hospital replacement project.
Born and raised in Provo, Kaufusi says she loves the city and its people. "Provo is full of talented, capable citizens–you, my neighbors," she says.  "I'm honored to rub shoulders with you. And if you'll give me the privilege of being your mayor, I pledge to give my all to serving you in that capacity."
The candidate says she is already dedicating herself to the role she seeks. "The election for mayor is about a year away. But I'm already working steadily on this. In addition to doing my school board and other duties, I've been attending city council meetings, visiting with you about your concerns, and formulating plans. If you have an issue that's important to you, I want to hear about it." Kaufusi has listed her cell phone, 801-319-4999, and email address, michelle@michelle4mayor.com, saying "I want Provo to have in their mayor a leader for all of us, so please join the conversation." She is also accepting pledges of support, donations, and offers to volunteer at michelle4mayor.com, where more information is available about her and candidacy.
######